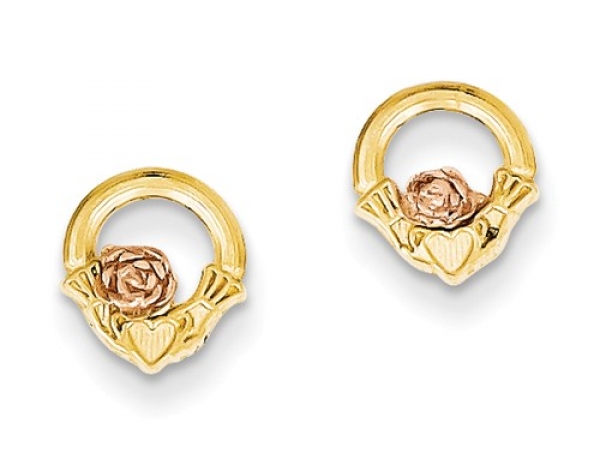 14 KARAT TWO-TONE CLADDAUGH POST EARRINGS
$69.00 $55.00
In Stock | STYLE: YE35
In Stock
---
Inquire
14-KARAT YELLOW AND ROSE GOLD POST CLADDAUGH EARRINGS.*Prices are subject to change based on fluctuations in metal prices and currencies
Quality Gold (QG) is a jewelry manufacturer and wholesale distributor offering more than 160,000 unique jewelry and gift items in stock and available to ship same day and more than 100,000 special order items. Products are manufactured around the world, including within the USA. By combining technology, ingenuity and the best customer service in the industry, QG has positioned itself as the premier supplier in the jewelry industry and offers one of the largest catalog assortments in the business, including more than 5,200 catalog pages.

In 1979, David Langhammer started QG as a one-man operation, and today QG is a renowned, trusted company with more than 460 employees and national reach. Actively serving more than 25,000 independent, regional and national chain jewelers across the USA & in Puerto Rico and Canada, QG continues to grow year after year. By maintaining 96% in-stock status for customers for the majority of the year, QG delivers on its promise of on-demand overnight shipping of in-stock product with no minimum orders necessary. Because of its uniqueness, QG is now serving as a special orders source for several nationwide and regional retail chain stores, a source for E-commerce, a stock partner for large retailers, a custom packaging provider and a Gold Recycling partner for retailers. QG has a unique product assortment to fit your business needs.

QG continues to expand its extensive product line to offer customers the widest selection of quality products at competitive prices. QG is committed to your long-term success and viability.